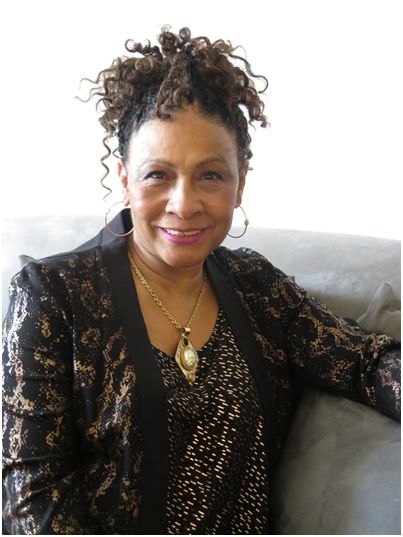 BC's Jazz, Gospel, Soulful Singer/Songwriter, Recording Artist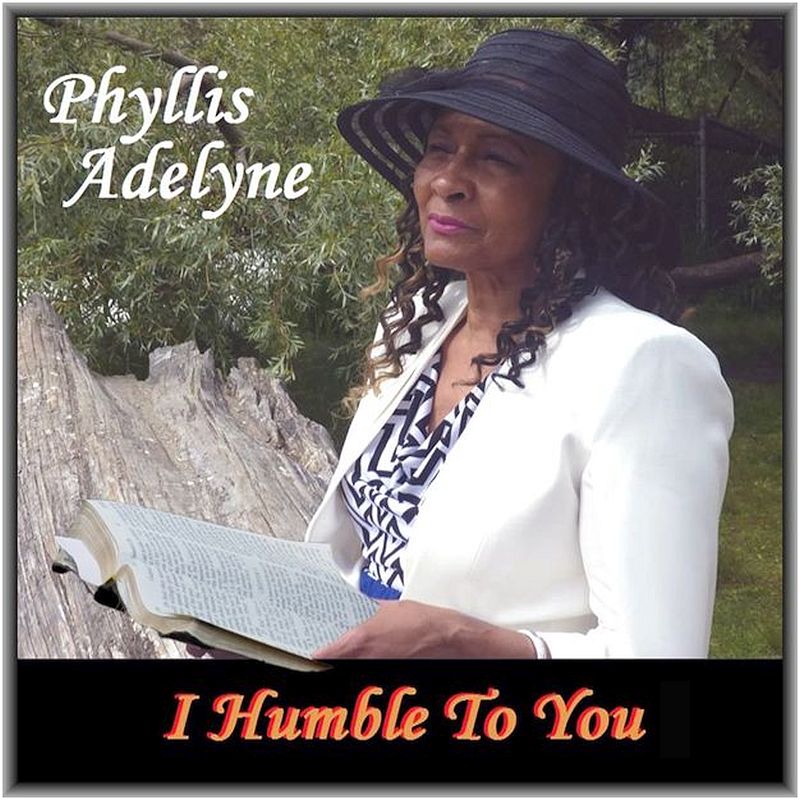 When praises go up, blessings come down!



I am so excited to announce the completion of my 2nd CD; titled "I Humble to You". The songs can be downloaded on Spotify, Itunes, Amazon, Google play, Apple Music. The physical CD is available by contacting me at phyllisadelyne@gmail.com. There are more songs to come; but 1 CD at a time. I give thanks to God for continuing to grow me, stretch me, mold me with the beautiful gospel/inspirational songs that are put on my heart. "Praise the Lord"! It is truly a blessing to minister in song! Below is link to "I Humble to You".

https://www.youtube.com/watch?v=j0puVNpp1ho

Phyllis Adelyne Events!Scroll down for upcoming performances!
June 30 - Jamaican Canadian Cultural Association of BC . (See poster for details)
August 5 - New Horizons Baptist Church, 5457 Cornwallis St. Halifax NS - 10:45 am Service
August 5 - Revival Tabernacle 5527 Cunard Street, Halifax, NS - 8pm Service
September 1 - Richmond World Festival , Minoru Park, Richmond. I will be performing at 11:30-11:55 am on Africa Stage.
Oct 7 - Phyllis Adelyne's Unity Outreach Singers leading "praise & worship" at The Rock of Salvation Church 13062 - 104 Avenue, Surrey. Pastor Gregory Jackson bringing the message at 4pm service. Come and be blessed!

Oct 15 - Senior Centre with Unity Outreach Singers
November 4 - Rock of Salvation Church 13062- 104 Avenue Surrey 4PM Service

Nov 3 - Special Guest appearance( See poster for details)

Dec 1 - James Street Cafe & Grill 7:30- 11:00 PM "3rd Annual Family Affair Christmas Show" (see poster below)
Dec 2 - Unity Outreach Singers leading Praise & Worhship at Rock of Salvation Church 13062 - 104 Avenue, Surrey. Service at 4PM with Pastor Jackson bringing the message
Dec 10 - Christmas Party at South Granville with Unity Outreach Gospel Singers (private)
Dec 15 - Church of Pentecost Mega Worship Night (See poster below)

Dec 20 - Unity Singers under leadership of Phyllis Adelyne at Chalmers (private)
Dec 31 - Phyllis & Don bringing in the New Year 2019 (See poster) TUC 60 West Cordova St., Vancouver from 8:00 - 12 am (Menu tuccraftkitchen.com)
Happy New Year!
Feb 9th Guest appearance at James Street Cafe (see poster below)




Feb 17th - Guest appearance on CFRO 100.5 fm Program One O'Clock Jump (between 1:45-2:30 pm)

Feb 25 - BHM Legacy Dinner - (see poster below)




Mar 2 - ANSMA Award Show - Spatz Theathre Halifax, NS (Emerging Star Nominee)




March 9 - Phyllis Adelyne & Company at James Street Cafe (poster below)




March 21 - Shannon Oaks with Unity Outreach Gospel Singers




April 27 - Castle Restaurant & Bar 319 Governors Court, New Westminster 8-11 PM (Details to follow)




May 24 - Phyllis Adelyne & Don Hardy at Castle Restaurant & Bar 319 Governors Court, New Westminster from 8-11 PM




June 8 - James Street Cafe & Grill (details to follow)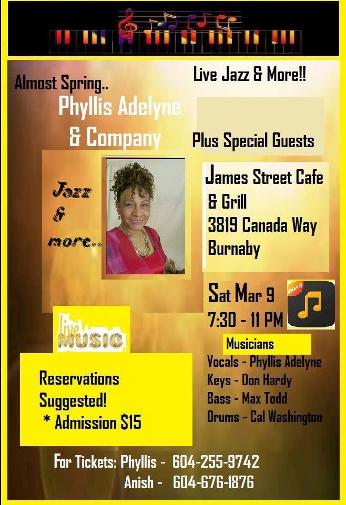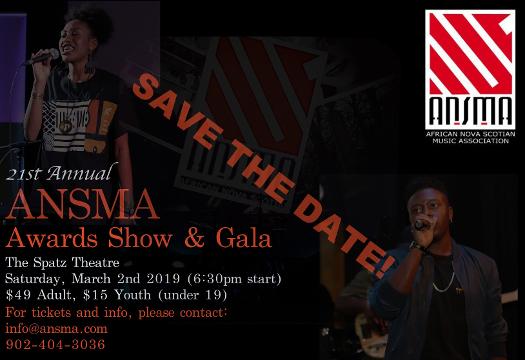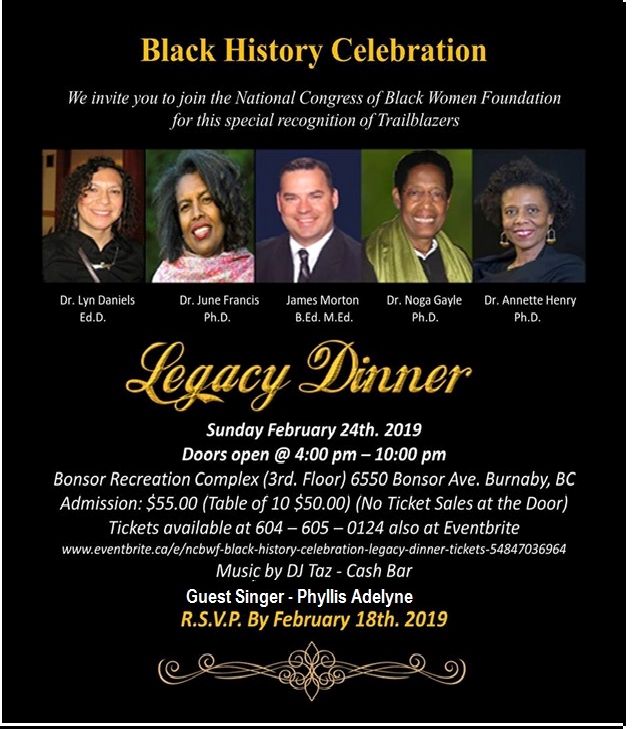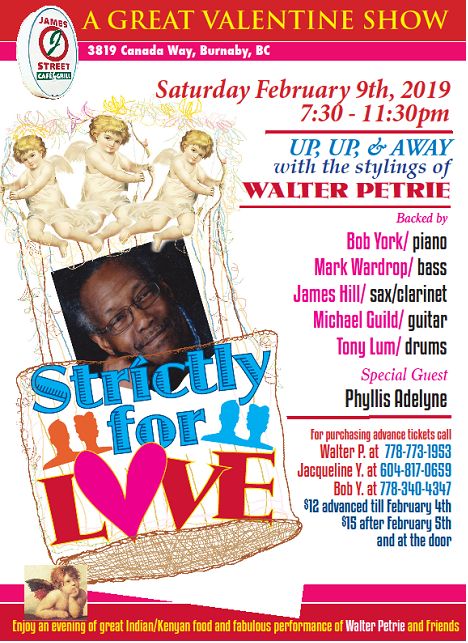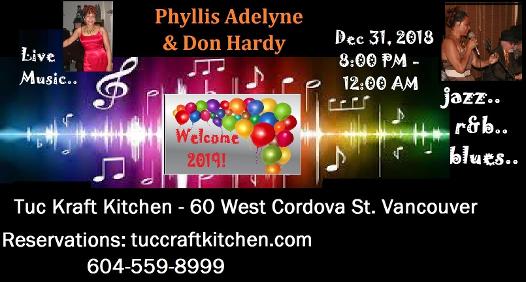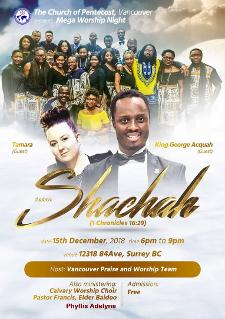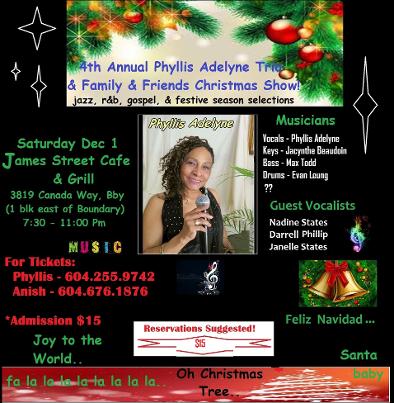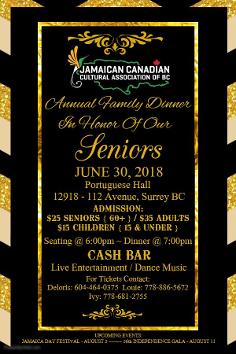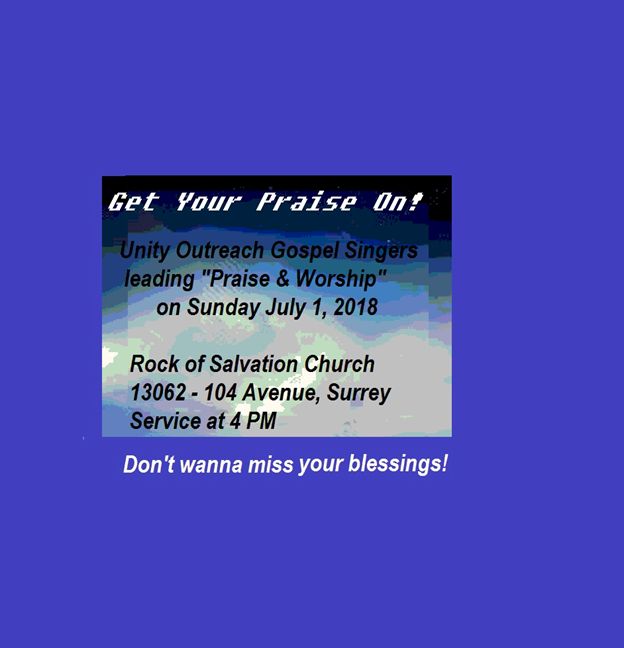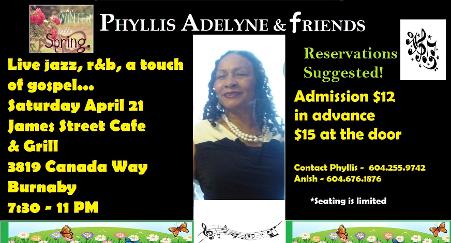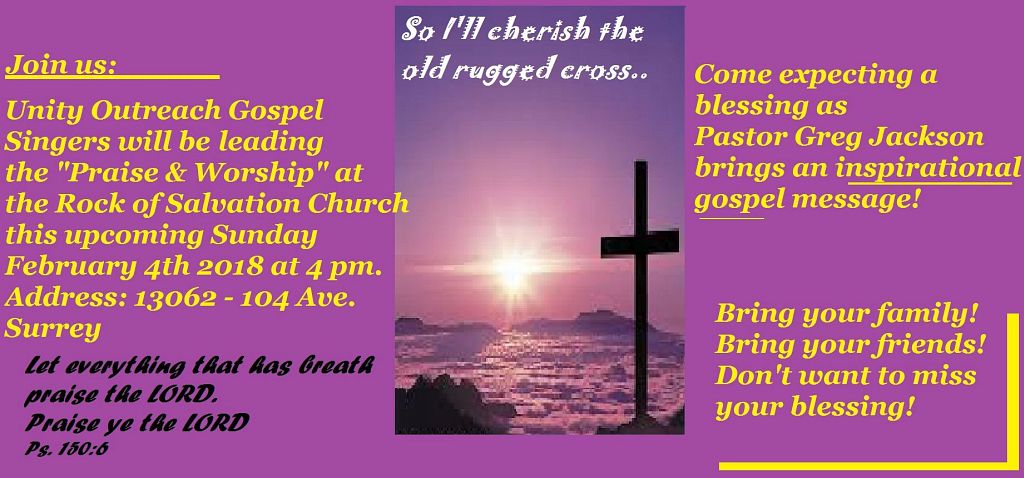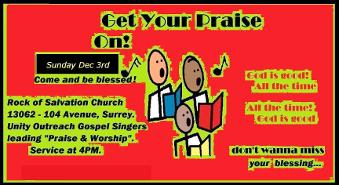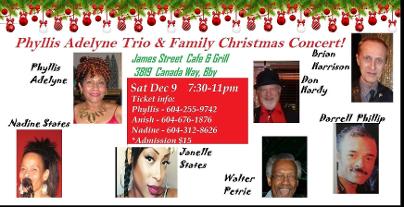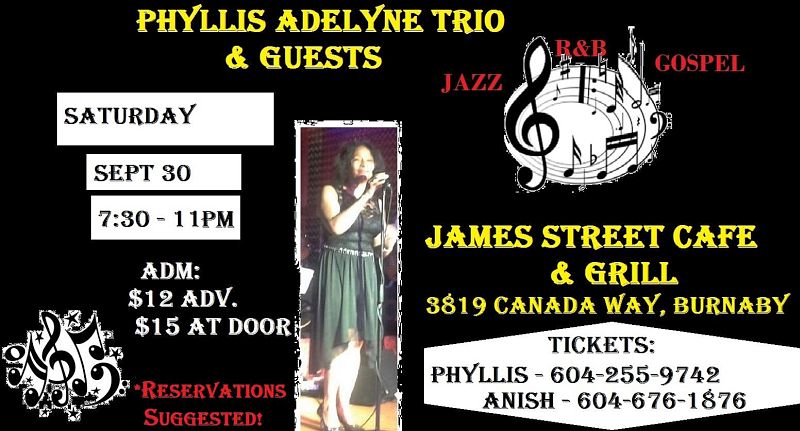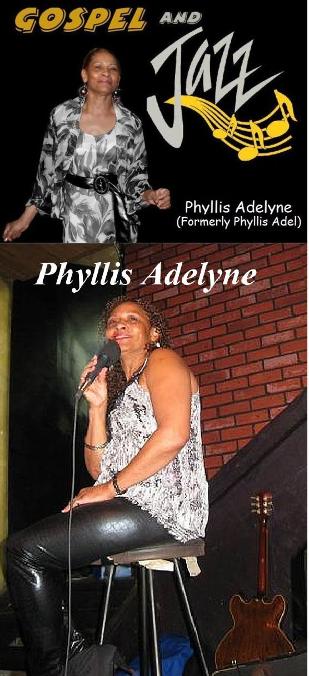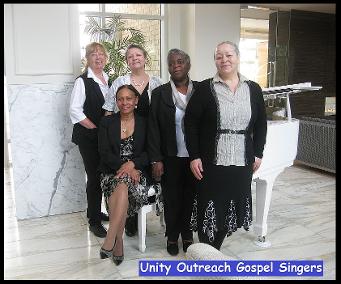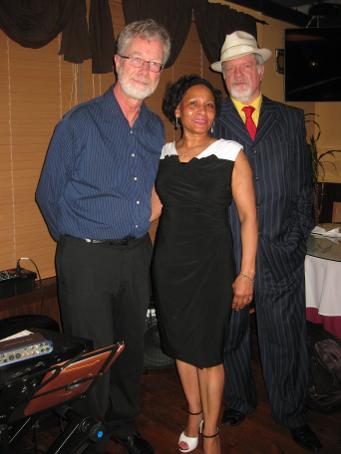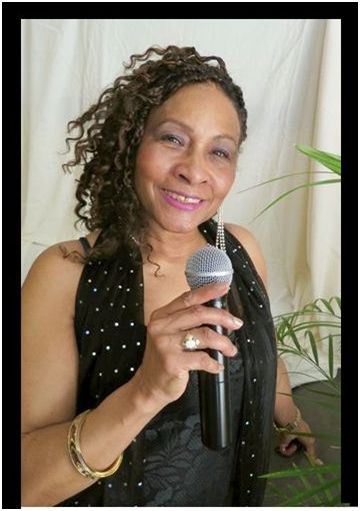 KEEP
SCROLLING
DOWN
TO
HEAR
SOME
JAZZ!
About me...Phyllis Adelyne is a singer/songwriter/recording artist.
She briefly attended the Maritime Conservatory of Music in Halifax, NS, but is mostly self-taught.
Her love of music started at home with her father playi
ng the guitar and piano and singing with her sisters and hearing the sweet
mellow notes coming from her mother. As a little girl Phyllis Adelyne sang in Sunday school and fondly remembers singing a solo in the first grade Christmas concert.
She is a gifted soprano and alto vocalist whose influences include Mahalia Jackson, Shirley Ceasar, Aretha Franklin, and Billie Holliday.
Phyllis Adelyne enjoys all types of music, she is known for her unique jazz stylings but when she sings gospel music you can hear and see the passion come alive in each song; she will draw you in. Phyllis is known as an anointed, gifted singer, with an angelic voice that can captivate one with her style. Phyllis Adelyne's dream has come true with the release of her gospel compilation which consists of original compositions. The CD titled "It's All In His Time" is now available for download on: CDbaby.com/cd/phyllisadelyne and you have the option to have the actual CD by contacting phyllisadelyne@gmail.com
Phyllis Adelyne has been a part of the music scene in Britis
h Columbia for many years; lead soloist in church as well as performing in various venues. She has performed in the Vancouver Jazz Festival, West Vancouver Harmony Arts Festival, Vespers Jazz Series at St. Andrews Westley United Church, Maple Ridge Worship in the Park, Surrey Prayer Canada, Cloverdale, New Westminster community festivals. She has performed musical numbers for movies such as Outer Limits, Home for Christmas. Phyllis Adelyne has hosted a community event program on Roger's Television and produced and hosted a music program "Super Soul Thursday" on CFRO for several years. She has received honorable mentions as an amazing talented singer.
Phyllis Adelyne held the post of Praise & Worship leader for many years. Phyllis has a song list that boasts over 250 songs of various genres including original material. She has been accompanied by 1 to 10 musicians from steel pan band to big band and has enhanced local musicians' recordings with her harmonious background vocals. Phyllis has performed in mass gospel choirs in BC and Washington State. She often makes guest appearances at various churches and looks forward to every opportunity to share her ministry. She has been Leader/Director of the Unity Outreach Singers for over 10 years; a accappela group often bringing music to the seniors in the community. Phyllis has organized Black History Month productions with music and spoken word for several years and likes to be involved in current events. Phyllis is proud that she has recorded her own gospel compilation and looks forwards to working on new songs. Thank you for checking out my website. May God bless you!
You can listen to a preview from Phyllis Adelyne's CD by clicking the link below..
http://cdbaby.com/cd/phyllisadelyne
Gospel Song:

https://www.youtube.com/watch?v=1YSkTuU_Pkg - Let Your Light Shine

Jazz Standards:

https://www.youtube.com/watch?v=Ixa22Y5mIO8 - Sept. in the Rain
https://www.youtube.com/watch?v=_5RKGYbC2UU - God Bless the Child
Available for weddings, church functions, funerals, community festivals, private engagement, socials, etc.
Contact Phyllis by clicking on her email address below..

phyllisadelyne@gmail.com
604-255-9742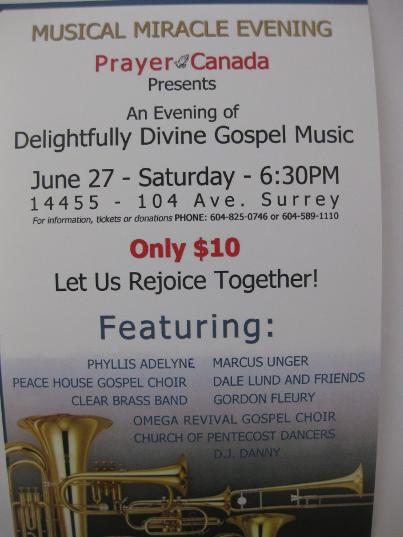 You can hear me singing by clicking the below links
"